Installing and servicing crushing equipment in Canadian quarries.
Visiting Canada always was a dream journey for me but I never thought about this one coming true.
I truly loved the friendly folks, the work safe attitude…
The cold weather – it was end of October -I didn't like all that much but I coped with…
…to my dread the airline mixed up my luggage and delivered the working equipment suitcase packed with heavy boots, helmet, thick jacket and jumpers, waterproof pants and some helmet, testing equipment etc to another somewhere out there but – sadly – not to the destination I requested.
Well anyways… I arrived and managed two days working in the rock crushing plant in my sunshine shoes and jeans – not impressed I can tell you. Gladly our customer supplied all the safety equipment and I was safe and sound after all.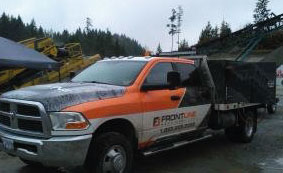 Installing new software and clarifying some issues worked out well. The journey was also well worth it due to international communicational problems prior to my visit had arisen but could solve em all by shaking hands, talking over a cuppa coffee and yarning about business to come.
28 total views, 6 views today